Police have welfare concerns and are calling for information from the public to…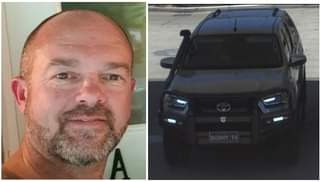 Police have welfare concerns and are calling for information from the public to assist them with locating 46-year-old Justin BUSHBY. Justin was last seen at approximately 10:00pm on 8 May 2021, leaving his
residential address in Guildford.
Justin is described as 181cm tall, balding short greying hair, brown eyes, medium build, fair complexion and a greying goatee beard. Justin was last seen wearing grey cargo long pants, black button up shirt and a pair of thongs.
Justin is believed to be driving BUSHY74 a silver 2020 Toyota Hilux.
Police have concerns for her welfare and anyone that sights Justin should contact police immediately on 131 444 and reference CAD 376990.