Weather News – Tropical Cyclone Seroja makes landfall, weakens to category two system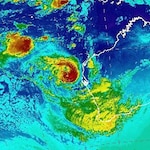 Tropical Cyclone Seroja makes landfall, weakens to category two system


By Kenith Png, Evelyn Manfield and David Weber,

Sunday April 11, 2021 – 18:48 EST


A satellite image of Tropical Cyclone Seroja as it heads towards the WA coast.
– ABC


The destructive core of Tropical Cyclone Seroja is moving inland north of Geraldton after wind gusts of up to 170 kph were reported during landfall.
The storm hit the Western Australian coast south of Kalbarri at 8:00pm AWST on Sunday as a category three system.
At 10:00pm AWST the storm weakened to a category two system as it continued moving inland.
Cyclone Seroja…